Tips for driving with DISTRONIC PLUS
Important safety notes
The following contains descriptions of certain road and traffic conditions in which you must be particularly attentive. In such situations, brake if necessary. DISTRONIC PLUS is then deactivated.
WARNING
The DISTRONIC PLUS works to maintain the speed selected by the driver unless a moving obstacle proceeding directly ahead of it in the same travel direction is detected (e.g. following another vehicle ahead of you at your set distance).
This means that:
Х Your vehicle can pass another vehicle after you have changed lanes.
Х While in a sharp turn or if the preceding vehicle is in a sharp turn, the DISTRONIC PLUS could lose sight of the preceding vehicle. Your vehicle could then accelerate to the previously selected speed.
The DISTRONIC PLUS regulates only the distance between your vehicle and those directly ahead of it. It may not register stationary objects in the road, e.g.:
Х a stopped vehicle in a traffic jam
Х a disabled vehicle
Х an oncoming vehicle
The driver must always be alert, observe all traffic and intercede as required by means of steering or braking the vehicle.
WARNING
The DISTRONIC PLUS should not be used in snowy or icy road conditions.
Cornering, going into and coming out of a bend
The ability of DISTRONIC PLUS to detect vehicles when cornering is limited. Your vehicle may brake unexpectedly or late.
Vehicles traveling on a different line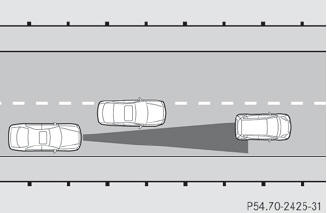 DISTRONIC PLUS may not detect vehicles traveling on a different line. The distance to the vehicle in front will be too short.
Other vehicles changing lane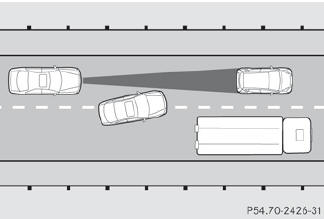 DISTRONIC PLUS has not detected the vehicle cutting in yet. The distance to this vehicle will be too short.
Narrow vehicles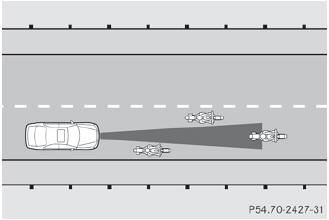 DISTRONIC PLUS has not yet detected the vehicle in front on the edge of the road, because of its narrow width. The distance to the vehicle in front will be too short.
Obstructions and stationary vehicles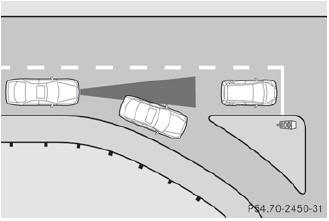 DISTRONIC PLUS does not brake for obstacles or stationary vehicles. If, for example, the detected vehicle turns a corner and reveals an obstacle or stationary vehicle, DISTRONIC PLUS will not brake for these.
Crossing vehicles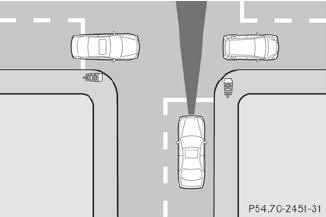 DISTRONIC PLUS may mistakenly detect vehicles that are crossing your lane.
Activating DISTRONIC PLUS at traffic lights with crossing traffic, for example, could cause your vehicle to pull away unintentionally.
See also:
Standard display
Press and hold the button on the steering wheel until the Trip menu with odometer 1 and trip odometer 2 is shown. ...
Maximum loaded vehicle weight
The maximum weight is the sum of the curb weight of the vehicle, the weight of the accessories, the total load limit and the weight of the optional equipment installed at the factory. ...
ESPЃ trailer stabilization
If your vehicle with trailer (vehicle/trailer combination) begins to lurch, you can only stabilize the vehicle/trailer combination by depressing the brake firmly. In this situation, ESPЃ assist ...