Operation
Depending on the date of manufacture of your vehicle, the

or

symbol for the automatic headlamp mode/daytime running lamps is located on the light switch.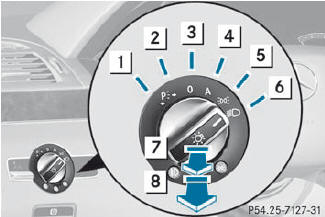 Left-hand standing lamps


Right-hand standing lamps


Lights off/daytime running lamps


Automatic headlamp mode/daytime running lamps


Parking lamps, license plate and instrument cluster lighting


Low-beam/high-beam headlamps


Front fog lamps


Rear fog lamp
The turn signals, high-beam headlamps and the high-beam flasher are operated using the combination switch.

Switch off the parking lamps and standing lamps when you leave the vehicle. This prevents the battery from discharging.
The exterior lighting (except the parking/ standing lamps) switches off automatically if you:
• remove the SmartKey from the ignition lock
• open the driver's door with the SmartKey in position 0
If you hear a warning tone when you leave the vehicle, the lights may still be switched on.

Turn the light switch to

or

.
or

If the rear fog lamp is switched on: press the light switch in to the stop.
See also:
Tire ply composition and material used
Describes the number of plies or the number of layers of rubber-coated fabric in the tire tread and sidewall. These are made of steel, nylon, polyester and other materials. ...
ETS/4ETS (Electronic Traction System)
WARNING Observe "Important safety notes" Traction control is part of ESP®. Traction control brakes the drive wheels individually if they spin. This enables you to pull away and ac ...
Switching on/off
WARNING Repeatedly setting the seat heating to level 3 may result in excessive seat temperatures. The health of passengers that have limited temperature sensitivity or a limited ability to r ...