Activating audio AUX mode
When you connect an external audio source, audio AUX is not selected automatically.

Select Audio in the main function bar by sliding

and turning

the COMAND controller and press

to confirm.

Select AUX using

and press

to confirm.
The audio AUX menu appears. The medium in the external audio source is played, if the source is connected and playback selected.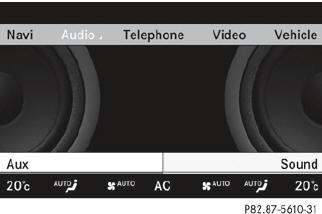 Please see the respective operating instructions for how to operate the external audio source.
You will find details on volume and sound settings in the "At a glance" section.
WARNING
External audio sources may have different volumes, which can mean that system messages such as traffic announcements and navigation system announcements are much louder. If necessary, please deactivate the system messages or adjust their volume manually.