Connecting an external device

Do not leave external devices in the vehicle as extreme temperatures (e.g. direct sunlight or extremely low outside temperatures) could cause them to malfunction (see the operating instructions for the respective device). Mercedes-Benz USA, LLC accepts no liability for damage to external devices.
Never connect more than one device at a time. You will otherwise not be able to operate the external device.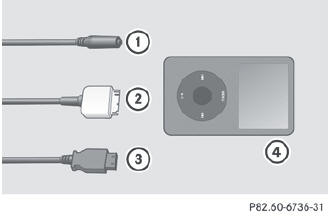 1 4-pin jack for 1/8 inch jack plug, e.g. for MP3 player (audio and video)
2 iPod® plug
3 USB socket
4 Example of device, iPod®

Connect the external device with suitable socket 1, 2 or 3.
COMAND activates the device automatically for sockets 2 and 3.
COMAND does not activate the device automatically for socket 1.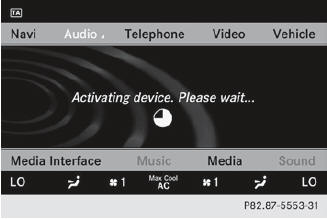 If you remove a device from sockets 2 and 3, the No device connected message appears.

A connected iPod® or MP3 player should not be simultaneously operated via the Media Interface and the remote control (e.g. Bluetooth® remote control), as this may produce unpredictable results.

Connecting a fully discharged iPod® or MP3 player can result in an extended initialization period.
Error messages appear while the device is being activated if:
• COMAND does not support the device connected.
• two devices are connected.
• the connected device consumes too much power.
• the Media Interface connection is faulty.

Consult an authorized Mercedes-Benz Center if required.