Copying music data to the MUSIC REGISTER
Introduction
You can copy music files from discs in the DVD changer, the single DVD drive, the memory card or the COMAND USB, as long as they are in MP3 and/or WMA formats.

While copying, several functions will not be available. If this is the case, you will see a message to this effect.
1. Selecting a data medium

Select Audio by sliding

and turning

the COMAND controller and press

to confirm.
The audio menu appears.

Select Music Register and press

to confirm.

Select Copy Music Files and press

to confirm.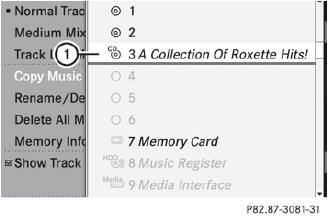 1 Data medium selected

To select a disc: slide

or turn

and press

to confirm.
The data medium is loaded.
2. Selecting music files

Select All Music Files.
This function copies all music files on the selected data carrier. The symbol in front of All Music Files is filled in.

Select Continue.
The copying menu appears.
Folders can also be selected individually.

To select individual folders: select the corresponding folder by sliding

or turning

and press

to confirm.
A tick in front of the entry highlights the selection.
3. Starting the copying process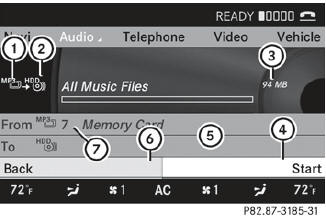 1 To copy from a memory card
2 To copy to the MUSIC REGISTER
3 Memory requirement, see "Calling up memory space info"
4 To start the copying process
5 Name of the data carrier from which data is being copied and storage location
6 To cancel copying of music files
7 Data carrier position in the media list

Select Start and press

to confirm.
Copying begins. The progress bar indicates the status of the copying procedure.

To exit without copying files: select Back and press

to confirm.

Under no circumstances should you remove the memory card while you are copying data from it. This will generate unusable data in the MUSIC REGISTER.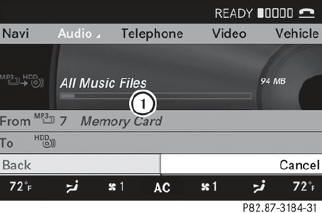 1 Progress bar

It may take some time for the copying process to be completed, depending on the amount of data. The time required may vary depending on the data source. If there is not enough memory space, you will see a message to this effect.

To cancel copying: select Cancel.
Music files are stored in the MUSIC REGISTER up until the point of cancellation.
See also:
High-beam spot lamp (vehicles with halogen daytime running lamps)
Switch off the lights. Open the hood. Turn housing cover 1 counter-clockwise and pull it out. Turn bulb holder 2 counter-clockwise and pull it out. Take the bulb out of bulb holder 2. ...
Genuine Mercedes-Benz parts
All Mercedes-Benz Centers maintain a supply of genuine Mercedes-Benz parts for necessary service and repair work. In addition, strategically located parts delivery centers provide for quick an ...
Child-proof locks for the rear doors
WARNING Children could open a rear door from inside the vehicle. This could result in serious injuries or an accident. Therefore, when children ride in the rear always secure the rear doors ...