Loading and removing SD cards

Not all SD memory cards are designed for the temperatures which may be reached in the vehicle.
Due to the wide range of SD cards available on the market, Mercedes-Benz cannot guarantee playback for all brands of SD memory card.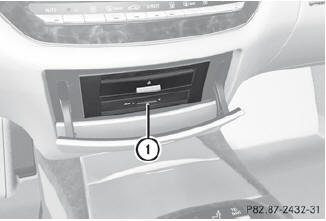 To load an SD card: press the SD card into slot 1. The tapered side must point towards the right.
If the SD card contains MP3 tracks, COMAND will play them back.

To remove the SD card: press the SD card into slot 1 as far as it will go and then release it again.

Pull out the card.
See also:
Maintenance
The Service and Warranty Booklet describes all the necessary maintenance work which should be done at regular intervals. Always have the Service and Warranty Booklet with you when you bring the ...
Interactive content
DVDs can contain interactive content (e.g. a video game). In a video game, for example, you may be able to influence events by selecting and triggering actions. The type and number of actions ...
Checking tire pressure electronically
► Make sure that the SmartKey is in position 2 in the ignition lock. ► Press and hold the button on the multifunction steering wheel until the standard display appears in the mu ...