Switching to radio mode
Option 1

Press

the function button.
The radio display appears. You will hear the last station played on the last waveband.
Option 2

Select Audio in the main function bar by sliding

and turning

the COMAND controller and press

to confirm.
If radio mode was the last mode selected, it will now be active.
If another audio mode is switched on, you can now switch to radio mode in the audio menu.

Select Audio by sliding

the COMAND controller and pressing

to confirm.
The audio menu appears.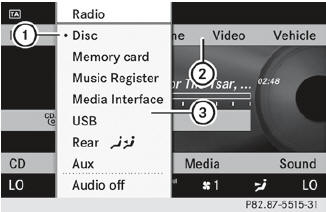 Example display: audio menu
1 Current audio operating mode
2 Main function bar
3 Audio menu

Select FM/AM radio by turning cVd the COMAND controller and press

to confirm.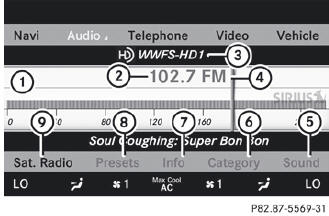 Example display, FM radio
1 Display window with station settings
2 Frequency of the selected station
3 Name of the selected station
4 Display bar for frequency setting
5 Sound settings
6 Waveband
7 Station information
8 Preset functions
9 Radio functions
See also:
Side marker lamps
- Remove the cover in the front wheel arch. - Turn cap 2 counter-clockwise and remove it. - Pull out bulb holder 1. - Take the bulb out of bulb holder 1. - Insert the new bulb into bulb holder 1 ...
Introduction
Mercedes-Benz recommends that you use genuine Mercedes-Benz parts, conversion parts and accessories that have been approved for the type of vehicle. Mercedes-Benz tests genuine parts as well as co ...
Diesel Power
The GL350 Bluetec's 3.0-liter diesel V-6 makes 210 horsepower. There's some familiar diesel clatter when accelerating, though the noise is nothing like an 18-wheeler. The sound is more akin to tha ...