Traffic information on the map
If you subscribe to the SIRIUS XM Satellite Radio Traffic Message Service, traffic information can be displayed on the map. You can select three categories for the display.

To switch the displays on/off: press

the COMAND controller to show the menu.

Select Navi in the main function bar by sliding

and turning

the COMAND controller and press

to confirm.

Select Traffic Information On Map and press

to confirm.

Select a category and press

to confirm.
Depending on the previous state, switch the option on

or off

.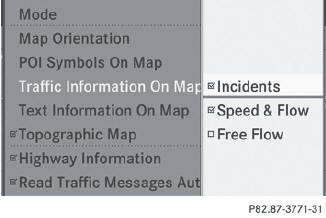 Х Traffic incidents
Road sections are illustrated with a yellow line and arrows.
Warning messages or traffic incidents are represented on the map by appropriate symbols and/or yellow/red arrows.
Explanation of symbols.
Х Speed & Flow
Road sections are represented by yellow or red car icons.
Green arrows: free-flowing traffic
Yellow car icons: congested traffic, average speed 25 - 45 mph
Red car icons: traffic jam, average speed 5 Ц 20 mph
Х Free Flow
Road sections are illustrated with a green line and arrows.
See also:
Notes on selecting, mounting and replacing tires
- Only mount tires and wheels of the same type and make. - Only mount tires of the correct size onto the wheels. - After mounting new tires, run them in at moderate speeds for the first 60 mil ...
Notes for 4MATIC vehicles
Vehicles with 4MATIC must not be towed with either the front or the rear axle raised, as doing so will damage the transmission. If the vehicle has transmission damage or damage to the front or ...
Important safety notes
WARNING Follow recommended tire inflation pressures. Do not underinflate tires. Underinflated tires wear excessively and/or unevenly, adversely affect handling and fuel economy, and are more ...