Map information in the display
Showing text information
During route guidance, you can have map information displayed at the bottom edge of the display.

To show the menu: press

the COMAND controller.

Select Navi in the main function bar by sliding

and turning

the COMAND controller and press

to confirm.
The main area is active.

Select Navi again and press

to confirm.
The navigation menu opens.

Select Text Information on Map and press

to confirm.
A

dot indicates the current setting.

Select Arrival Time/Distance, Current Street, Geo-Coordinates or None and press

to confirm.

To exit the menu: slide

the COMAND controller.
Arrival time/distance to the destination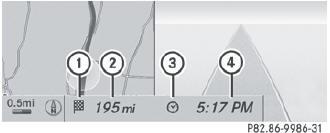 Arrival time/distance display switched on
1 Icon for destination
2 Distance to the destination
3 Icon for estimated time of arrival
4 Estimated time of arrival
You can only see this display during route guidance. While scrolling the map, you will see additional data, e.g. road names, depending on the crosshair position, if the digital map supports this data.
Road display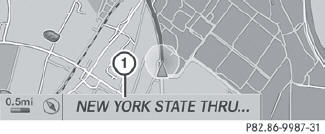 Road display active
1 Road names or numbers, e.g. for highways
Geo-coordinate display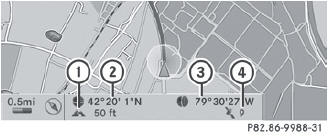 Geo-coordinate display active
1 Current height above average sea level, rounded
2 Current vehicle position: latitude coordinates
3 Current vehicle position: longitude coordinates
4 Number of GPS satellites currently being used
There must be sufficient GPS reception for all displays to be shown. If this is not the case, the display will be grayed out. Height display 1 may vary from the actual value, because the navigation system uses the GPS signals for the calculation.
While scrolling the map, you will see the geo-coordinates of the crosshair position. Height display 1 and number of satellites used 4 are not displayed.
"None" menu option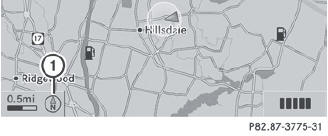 Display switched off
1 Current map orientation

During the "Move map" function you can see additional information depending on the position of the crosshair, such as a road name, if the digital map supports this data.
See also:
Calling up the compass
The compass shows which direction the vehicle is currently traveling in: N, NE, E, SE, S, SW, W or NW. To obtain a correct display in rear-view mirror 1, the compass must be calibrated and ...
DISTRONIC PLUS displays in the multifunction display
General notes You can select the distance display in the Assistance menu of the onboard computer. Display when DISTRONIC PLUS is deactivated Select the Distance Display function using the ...
Overview
Function 1 COMAND display 2 COMAND controller and function buttons 3 Telephone keypad ...