Route overview
You can use the overview of the route to move along the route section by section and to see details of the route sections.
You have entered a destination or a point of interest and possibly an intermediate stop.

To activate navigation mode: press the

function button once or twice.

To show the menu: press

the COMAND controller.

Select Route in the navigation system menu bar by turning

the COMAND controller and press

to confirm.

Select Route Info and press

to confirm.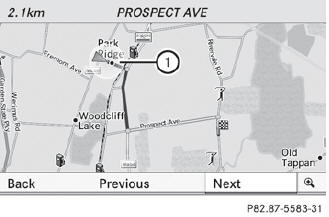 Example display: route overview
1 Marked route sections
At the top of the display, you will see information about the highlighted route section, for example the distance to be driven on the road and road designation. The highlighted route section is marked in white with a red border on the map.

To view the next or previous route section: select Next or Previous and press

to confirm.

If the first or last route section is highlighted, you cannot select Previous or Next.

To zoom in or out of the map: select

or

and press

to confirm.

To close the route overview: select Back and press

to confirm.
See also:
Vehicle equipment
This Operator's Manual describes all models and all standard and optional equipment of your vehicle available at the time of publication of the Operator's Manual. Country-specific differences a ...
Hiding display messages
You can hide some display messages with a low priority. You can hide some display messages with a low priority. – Press the or button on the steering wheel to hide the display message. The dis ...
Activating/deactivating the MONO function
This function is only available in vehicles for Canada. You can use the MONO function to adopt the temperature and air distribution settings on the driver's side for the front-passenger side. ...