Lane recommendations
Overview
On multilane roads, COMAND can display lane recommendations for the next change of direction. The corresponding data must be available in the digital map.
COMAND displays lane recommendations 6, based on the next two changes of direction. The number of lanes applies to the point at which the next change of direction is required.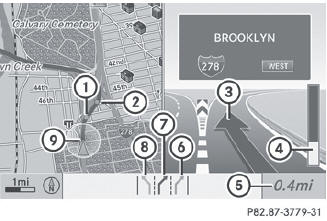 Example display
1 Point of the next change in direction (light blue circle)
2 Point of the change of direction after next
3 Next change of direction (in this case, turn off to the right)
4 Graphic representation of the distance to the next change of direction
5 Distance to the next change of direction
6 Possible lane (light blue)
7 Recommended lane (dark blue)
8 Lane not recommended (gray)
9 Current vehicle position: the tip of the triangle indicates the vehicle's direction of travel

The multifunction display also shows lane recommendations. Only the recommended lanes are displayed here.
Display and description of lane recommendations
The colors used in the lane recommendation display vary depending on whether day or night design is switched on.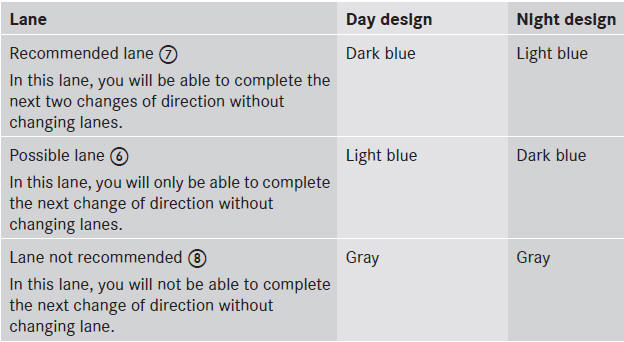 Display in the multifunction display
The lane recommendations are also shown in the multifunction display. You will find further information in the "On-board computer" section.
Using car pool lanes
COMAND displays car pool lanes if you have selected this option in the route options.
If this is the case, COMAND checks whether there are any car pool lanes on the route. If there are, they are taken into account during route calculation. Route guidance will then include car pool lanes.
Car pool lanes may only be used under certain conditions. Please observe the relevant legal requirements.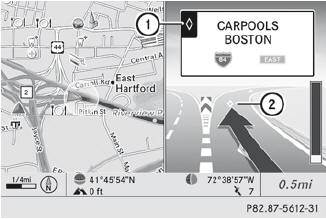 Example: display, car pool lane
1 Identification marking on the road
2 Identification marking in COMAND
See also:
Notes on selecting, mounting andreplacing tires
• Only mount tires and wheels of the same type and make. • Only mount tires of the correct size onto the wheels. • After mounting new tires, run them in at moderate speeds for the first 60 miles ...
Problems with air bag deactivation system
WARNING If the indicator lamp illuminates and remains illuminated when the weight of a typical adult or someone larger than a small individual has been detected on the passenger s ...
First-aid kit
► Open the tailgate. ► To open the side trim panel: turn rotary knob 1 90° in the direction of the arrow and open side trim panel 2. ► To remove the first-aid kit: remove ...