CD/DVD drive and AUX jacks
The CD/DVD drive is located in the center behind the front seats.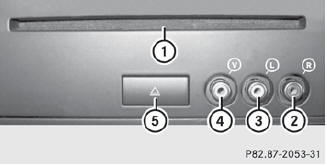 1 CD/DVD slot
2 AUX, right-hand (R) jack for audio signal
3 AUX, left-hand (L) jack for audio signal
4 AUX, jack for video signal (V)
5 CD/DVD eject button
The AUX jacks shown are for the AUX drive.
Identical jacks can be found on the right-hand side of the rear-compartment screens (AUX display).
See also:
Vehicle tool kit
The vehicle tool kit can be found in the stowage well under the trunk floor. X To remove the cargo compartment stowage tray/cover: lift up the floor of the cargo compartment (). Remove stowag ...
Program selector button
General information The program selector button allows you to choose between different driving characteristics. Program selector button on all models except AMG vehicles For further infor ...
General notes
Read this section carefully before driving your vehicle off-road. Practice by driving over more gentle off-road terrain first. Familiarize yourself with the characteristics of your vehicle and the ...