Overview
You can use the remote control to operate the COMAND display, SPLITVIEW and either one of the rear-compartment screens.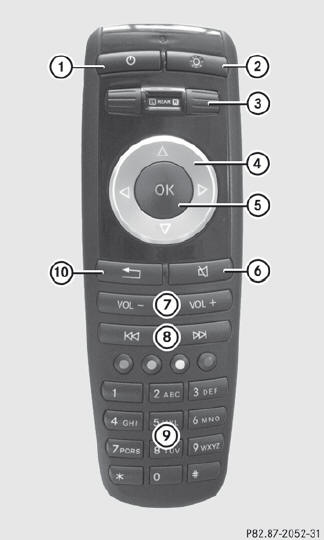 1 To switch the screen on/off (Rear Seat Entertainment System only)
2 To switch the button lighting on/off
3 To select the screen for remote control operation (COMAND, SPLITVIEW, L REAR and REAR R can be selected)
4 To select a menu or menu item
5 To confirm a selection or setting
6 Mute
7 To adjust the volume (for corded headphones only)
8 COMAND: to set the station, skip track, fast forward/rewind, for example. Rear Seat Entertainment System: skip track, fast forward/rewind
9 COMAND: to select a station from presets, select a track, enter directly, enter a phone number, for example. Rear Seat Entertainment System: to select a track, enter directly
10 To exit a menu (back)

Point the remote control at the corresponding screen and execute the functions by pressing the corresponding buttons.

The remote control's function may be restricted depending on the angle at which it is pointed at the respective screen.
See also:
Overview of interior lighting
Overhead control panel 1 Switches the left-hand front reading lamp on/off 2 Switches the rear interior lighting on/off 3 Switches the automatic interior lighting control on/off 4 Swit ...
Surprising Agility
At 17 feet long, the S550 is obviously a large car, but it doesn't feel the least bit ponderous from the driver's seat. It's pretty easy to maneuver through heavy, fast-moving highway traffic and ...
Premium-grade unleaded gasoline
To ensure the longevity and full performance of the engine, only premiumgrade unleaded gasoline may be used. If there is no premium-grade unleaded gasoline available and regular-grade unle ...