Rear seat head restraints
WARNING
For safety reasons, always drive with the rear head restraints in the upright position when the rear seats are occupied.
Keep the area around head restraints clear of articles (e.g. clothing) to not obstruct the folding operation of the head restraints.
WARNING
Make sure the rear seat head restraints engage when placing them upright manually.
Otherwise their protective function cannot be ensured.
The back of the head will not be supported in the event of a collision. That could cause serious or even fatal injuries. Rear seat occupants can be seriously injured or killed.
Folding back the rear seat head restraints from the front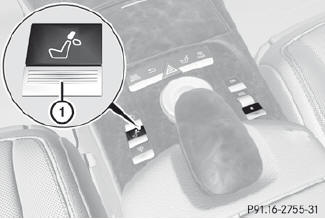 Make sure that the SmartKey is in position 1 or 2 in the ignition lock.


Press button 1.
Folding the rear seat head restraints into position electrically (outer head restraints)

Press and hold button 1 until the head restraints have folded into position.

If a rear-seat passenger inserts the seat belt into the buckle, the head restraint on the corresponding outer seat folds up automatically.
Folding the rear seat head restraints into position manually
Only the center rear seat head restraint can be folded into position manually.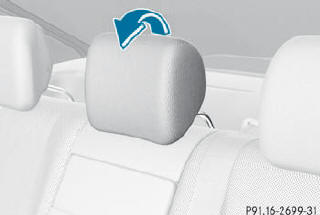 Pull the head restraint up until it engages.
Adjusting the luxury head restraints in the rear compartment
WARNING
When folding back the side cushions, never reach between the side cushion and the mounting post. You could otherwise be trapped.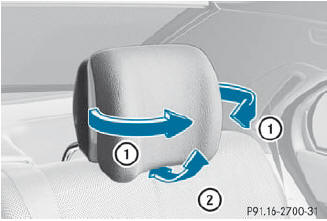 You can adjust side bolsters 1 of the luxury head restraint individually.

To adjust the side bolsters of the head restraint: push or pull side bolsters 1 into the desired position.


To adjust the head restraint angle: hold the head restraint by the upper edge and slide it forwards or back in the direction of arrow 2.
See also:
Coolant temperature display
WARNING Driving when your engine is overheated can cause some fluids which may have leaked into the engine compartment to catch fire. You could be seriously burned. Steam from an overheated e ...
Definition of terms for tires andloading
Tire ply composition and material used Describes the number of plies or the number of layers of rubber-coated fabric in the tire tread and sidewall. These are made of steel, nylon, polyester and ...
Instruction labels for tires and loads
WARNING Do not overload the tires by exceeding the specified load limit as indicated on the Tire and Loading Information placard on the driver's door B-pillar. Overloading the tires can ove ...