Adjusting the front-passenger seat from the rear
WARNING
When adjusting the front passenger seat, make sure the seat, if occupied, is as far from the front passenger front air bag as possible.
Otherwise, the passenger could be seriously or even fatally injured in the event of an accident or braking maneuver.
Make sure no one is caught or injured while the seat is being adjusted.
Even with the SmartKey or SmartKey with KEYLESS-GO removed from the starter switch or the SmartKey with KEYLESS-GO removed from the vehicle, the power seats can be operated. Therefore, do not leave children unattended in the vehicle, or with access to an unlocked vehicle. A child's unsupervised access to a vehicle could result in an accident and/or serious personal injury.

Do not move the front-passenger seat fully forwards if there are objects in the parcel net in the front-passenger footwell.
The objects could otherwise be damaged.
You can use the override button to disable this function.
The button is located in the rear door on the front-passenger side.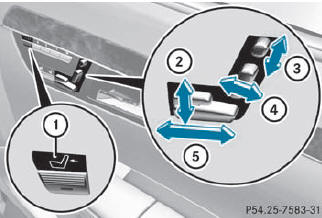 1 To select the front-passenger seat or rearcompartment seat
2 Seat height
3 Head restraint height
4 Backrest angle
5 Seat fore-and-aft adjustment

To select the front-passenger seat: press button 1.
The front-passenger seat is selected if the indicator lamp in the button lights up.


Adjust the front-passenger seat with buttons 2, 3, 4 and 5.


To select the rear-compartment seat: press button 1.
The rear-compartment seat is selected again.
See also:
Vehicle
Display messages Possible causes/consequences and Solutions You have attempted to start the engine with the transmission in position R or D. Shift the transmissio ...
2012 Mercedes-Benz CLS-Class Review by Carrie Kim
As I approached the all-new 2012 Mercedes-Benz CLS-Class, I was filled with a mix of elation and bona-fide terror. It's similar to when you walk into a very nice home and the first thing you say t ...
Snow chains
For safety reasons, Mercedes-Benz recommends that you only use snow chains which have been specially approved for your vehicle by Mercedes-Benz, or are of a corresponding standard of quality. ...