Changing the battery
You require a CR 2025 3 V cell battery.

Take the mechanical key out of the SmartKey.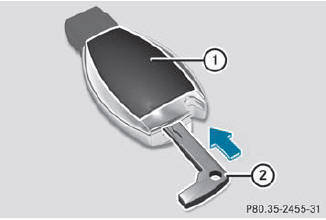 Press mechanical key 2 into the opening in the SmartKey in the direction of the arrow until battery tray cover 1 opens.
When doing so, do not hold cover 1 shut.


Remove battery tray cover 1.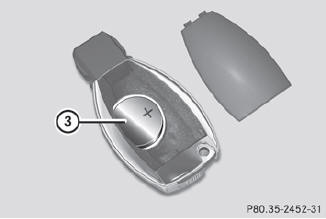 Repeatedly tap the SmartKey against your palm until battery 3 falls out.


Insert the new battery with the positive terminal facing upwards. Use a lint-free cloth to do so.


Make sure that the surface of the battery is free from lint, grease and all other forms of contamination.


Insert the front tabs of battery tray cover 1 and then press to close it.


Insert the mechanical key into the SmartKey.


Check the function of all SmartKey buttons on the vehicle.
See also:
Bag hooks
The bag hook can bear a maximum load of 11 lbs (5 kg). Do not use it to secure a load. 1 Bag hook ...
Convenience opening feature
You can ventilate the vehicle before you start driving. To do this, the key is used to carry out the following functions simultaneously: - unlock the vehicle - open the side windows - open the ...
Notes on regularly inspecting wheels and tires
WARNING Regularly check the tires for damage. Damaged tires can cause tire inflation pressure loss. As a result, you could lose control of your vehicle. Worn, old tires can cause accidents. I ...