Engine oil
Please bear the following in mind
The engine oils are matched to the performance of Mercedes-Benz engines and service intervals. You should therefore only use engine oils and oil filters that are approved for vehicles with maintenance systems.
For a list of approved engine oils and oil filters, consult an authorized Mercedes-Benz Center or go to the Internet site http://www.mbusa.com (USA only).
Never use engine oil or an oil filter of a specification other than is necessary to fulfill the prescribed service intervals. Do not change the engine oil or oil filter in order to achieve longer replacement intervals than those prescribed. You could otherwise cause engine damage or damage to the exhaust gas aftertreatment.
Follow the instructions in the service interval display regarding the oil change.
Otherwise, you may damage the engine and the exhaust gas aftertreatment.
The table shows which engine oils have been approved for your vehicle.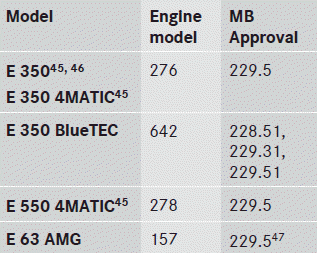 MB approval is indicated on the oil containers.
Additives
Do not use any additives in the engine oil.
This could damage the engine.
Engine oil viscosity
Viscosity describes the flow characteristics of a fluid. If an engine oil has a high viscosity, this means that it is thick; a low viscosity means that it is thin.
Select an engine oil with an SAE (viscosity) classification suitable for the prevailing outside temperatures. The following table shows the correct SAE classification to be used. The low-temperature characteristics of engine oils can deteriorate significantly, e.g.
as a result of aging, soot and fuel deposits. It is therefore strongly recommended that you carry out regular oil changes using an approved engine oil with the appropriate SAE classification.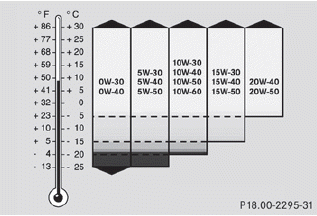 See also:
Points to observe before use
The sockets can be used for accessories, e.g. lamps or mobile phone chargers with a maximum current draw of 180 W (15 A). If you use the sockets for long periods when the engine is switched off, ...
Opening and closing
You can continue to operate the sliding sunroof after switching off the engine or removing the SmartKey from the ignition lock. This function is available for up to five minutes or until the ...
Proper use
WARNING There are various warning stickers affixed to your vehicle. Their purpose is to alert you and others to various dangers. Therefore, do not remove any warning stickers unless the s ...