Vehicle identification plate with vehicle identification number (VIN) and paint code number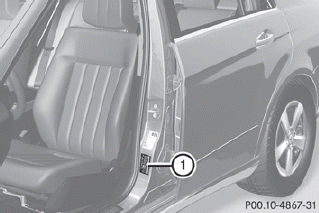 •► Open the driver's door.
You will see vehicle identification plate 1.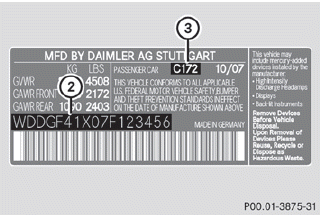 Example: vehicle identification plate (USA only)
2. VIN
3. Paint code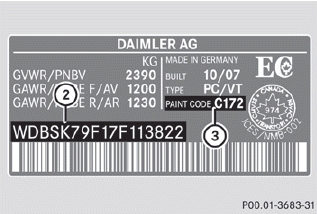 Example: vehicle identification plate (Canada only)
2. VIN
3. Paint code
The data shown on the identification plate is example data. This data is different for every vehicle and can deviate from the data shown here. You can find the data applicable to your vehicle on the vehicle's identification plate.
See also:
Important safety notes
Consult an authorized Mercedes-Benz Center if you require information on approved and recommended tires and wheels for summer and winter operation. Advice on purchasing and caring for tires is ...
Reporting malfunctions relevant to safety
For the USA only: The following text is reproduced as required of all manufacturers according to Title 49, Code of U.S. Federal Regulations, Part 575 pursuant to the National Traffic and Motor ...
Windows fogged up on the inside
Activate the cooling with air dehumidification function . Activate automatic mode . If the windows continue to fog up, activate the defrosting function. You should only select this setti ...