Tire characteristics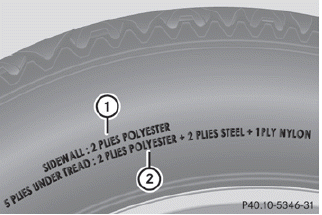 Tire data is vehicle-specific and may deviate from the data in the example.
This information describes the tire cord and the number of layers in sidewall 1 and under the tread 2.
See also:
GVWR (Gross Vehicle Weight Rating)
The GVWR is the maximum permissible gross weight of a fully loaded vehicle (the weight of the vehicle including all accessories, occupants, fuel, luggage and the drawbar noseweight, if applica ...
BAS PLUS (Brake Assist System Plus)
BAS PLUS is only available in vehicles equipped with DISTRONIC PLUS. Observe the "Important safety notes" section. At speeds above approximately 20 mph (30 km/h), BAS PLUS assists ...
Tire pressure
This is pressure inside the tire applying an outward force to each square inch of the tire's surface. The tire pressure is specified in pounds per square inch (psi), in kilopascal (kPa) or in ...