DOT, Tire Identification Number (TIN)
U.S. tire regulations prescribe that every manufacturer of new tires or retreader has to imprint a TIN in or on the sidewall of each tire produced.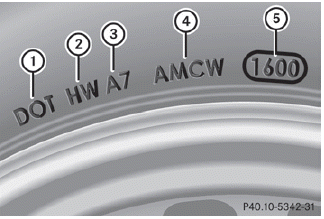 The TIN is a unique identification number. The TIN enables the tire manufacturers to inform purchasers of recalls and other safetyrelevant matters. It makes it possible for the purchaser to easily identify the affected tires.
The TIN is made up of manufacturer identification code 2, tire size 3, tire type code 4 and manufacturing date 5.
Tire data is vehicle-specific and may deviate from the data in the example
DOT (Department of Transportation): tire symbol 1 indicates that the tire complies with the requirements of the U.S. Department of Transportation.
Manufacturer identification code: manufacturer identification code 2 provides details on the tire manufacturer. New tires have a code with two symbols. Retreaded tires have a code with four symbols.
Further information about retreaded tires.
Tire size: identifier 3 describes the tire size.
Tire type code: tire type code 4 can be used by the manufacturer as a code to describe specific characteristics of the tire.
Date of manufacture: date of manufacture 5 provides information about the age of a tire. The first and second positions represent the week of manufacture, starting with "01" for the first calendar week. Positions three and four represent the year of manufacture.
For example, a tire that is marked with "3208", was manufactured in week 32 in 2008.
See also:
Active bonnet, seven airbags and PRE-SAFE as standard
During the course of its development, the new E-Class was subjected to more than 150 high-speed crash tests and a total of more than 17,000 realistic crash simulations. The crumple zone principle in ...
Refined atmosphere for maximum driving pleasure
The high-class interior - which seems even more spacious when fitted with the optional panoramic glass sunroof - makes use of new materials and colour combinations to enhance the high-class appeal ...
Important safety notes
For reasons of safety, Mercedes-Benz recommends that you drive with the lights switched on even during the daytime. In some countries, operation of the headlamps varies due to legal requiremen ...