Ashtray
Ashtray in the front-compartment center console
i You can remove the ashtray insert and use the resulting compartment for stowage.
! The stowage space under the ashtray is not heat resistant. Before placing lit cigarettes in the ashtray, make sure that the ashtray is properly engaged. Otherwise, the stowage space could be damaged.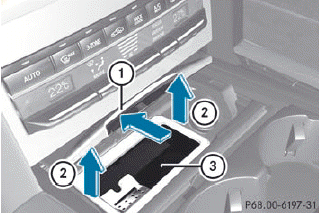 Х► To open: slide cover 1 forwards until it engages.
Х► To remove insert: hold insert 3 by the ribbing at the sides and lift it up 2 and out
Х► To re-install the insert: press insert 3 into the holder until it engages.
Х► To close: press cover 1 briefly at the front.
The cover moves back.
Ashtray in the rear-compartment center console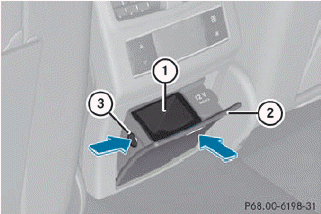 Х► To open: briefly press cover 2 at the top.
The ashtray opens.
Х► To remove the insert: press release button 3 and lift the insert up and out.
Х► To install the insert: install insert 1 from above into the holder and press down into the holder until it engages.
See also:
Switching the daytime running lamps on/off
This function is not available in Canada. If you have activated the Daytime Running Light function and the light switch is in the or position, the daytime running lamps are switched on autom ...
Cup holder in the rear seat armrest
Do not sit on or support your body weight on the rear seat armrest when it is folded down, as you could otherwise damage it. Close the cup holder before folding the rear seat armrest up. Othe ...
Roadside Assistance
The Mercedes-Benz Roadside Assistance Program offers technical help in the event of a breakdown. Calls to the toll-free Roadside Assistance Hotline are answered by our agents 24 hours a day, 365 d ...