Change of direction announced without a lane recommendation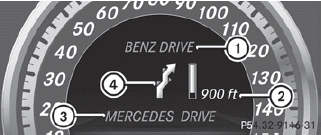 1. Road into which the change of direction leads
2. Distance to change of direction and visual distance display
3. Current road
4. Symbol for change of direction
When a change of direction has been announced, you will see visual distance display 2 next to the symbol for change of direction 4. This decreases in size as you approach the announced change of direction.
Change of direction announced with a lane recommendation
Lane recommendations are only displayed if the relevant data is available on the digital map.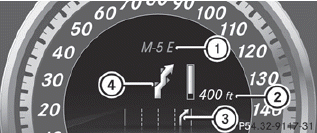 1. Road into which the change of direction leads
2. Distance to change of direction and visual distance display
3. Lane recommendation
4. Symbol for change of direction
On multi-lane roads, lane recommendation 3 may be shown for the next change of direction. Lanes may be added during a change of direction.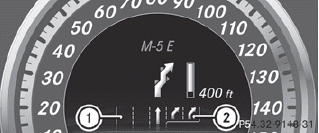 Lane recommendation display (example)
1 Uninterrupted lane
2 New lane during a change of direction
See also:
Activating/deactivating Bluetooth®
Select Vehicle in the main function bar by turning the COMAND controller and press to confirm. Select System by turning the COMAND controller and press to confirm. Select Blueto ...
Brow of hill
When driving up an uphill gradient, slightly reduce pressure on the accelerator immediately before reaching the brow of the hill. Use the vehicle's own impetus to drive over the top of the hil ...
Brake fluid level
If you notice that the brake fluid level in the brake fluid reservoir has fallen to the MIN mark or less, check the brake system immediately for leaks. Also check the thickness of the brake lin ...