Range of the sensors
General notes
The sensors must be free of dirt, ice and slush; otherwise they may not function correctly. Clean the sensors regularly, taking care not to scratch or damage them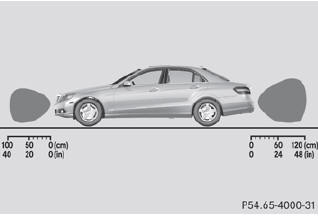 Side view, Sedan (example)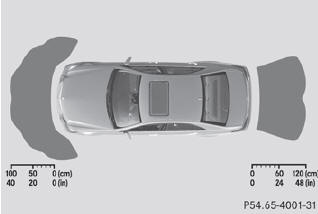 Top view, Sedan (example)
Front sensors

Rear sensors

When parking, pay particular attention to objects above or below the sensors, such as flower pots or trailer drawbars.
PARKTRONIC does not detect such objects when they are in the immediate vicinity of the vehicle. You could damage the vehicle or the objects.
The sensors may not detect snow and other objects that absorb ultrasonic waves.
Ultrasonic sources such as an automatic car wash, the compressed-air brakes on a truck or a pneumatic drill could cause PARKTRONIC to malfunction.
PARKTRONIC may not function correctly on uneven terrain.
Minimum distance

If there is an obstacle within this range, the relevant warning displays light up and a warning tone sounds. If the distance falls below the minimum, the distance may no longer be shown.
See also:
Information about driving abroad
Converting to symmetrical low beam when driving abroad: switch the headlamps to symmetrical low beam in countries in which traffic drives on the opposite side of the road to the country where ...
Restarting the tire pressure monitor
WARNING It is the driver's responsibility to set the tire pressure to the recommended cold tire pressure. Underinflated tires affect the ability to steer or brake the vehicle. You might los ...
Engine number
1 Emission control information plate, including the certification of both federal and Californian emissions standards 2 Engine number (stamped into the crankcase) 3 VIN (on the lower edge of ...