Control panel for dual-zone automatic climate control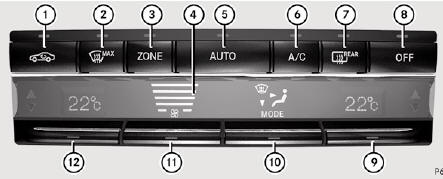 Canada only
1. To activate/deactivate air-recirculation mode
2. To defrost the windshield
3. To switch the ZONE function on/off
4. Display
5. To set climate control to automatic
6. To activate/deactivate cooling with air dehumidification
7. To switch the rear window defroster on/off
8. To switch climate control on/off
9. To set the temperature, right
10. To set the air distribution
11. To set the airflow
12. To set the temperature, left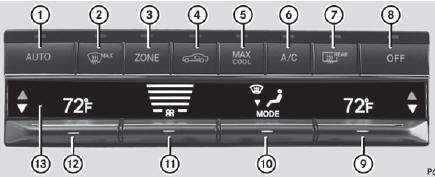 USA only
1. To set climate control to automatic
2. To defrost the windshield
3. To switch the ZONE function on/off
4. To activate/deactivate air-recirculation mode
5. To switch maximum cooling MAX COOL on/off
6. To activate/deactivate cooling with air dehumidification
7. To switch the rear window defroster on/off
8. To switch climate control on/off
9. To set the temperature, right
10. To set the air distribution
11. To set the airflow
12. To set the temperature, left
13. Display
See also:
Checklist before driving off-road
If the engine oil warning lamp lights up while the vehicle is in motion, stop the vehicle in a safe place as soon as possible. Check the engine oil level. The engine oil warning lamp warning mu ...
Automatic locking feature
The vehicle locks automatically when the ignition is switched on and the wheels of the vehicle are turning at a speed of more than 9 mph (15 km/h). You could therefore be locked out when: • th ...
The first 1000 miles (1500 km)
The more you look after the engine when it is new, the more satisfied you will be with its performance in the future. • Drive at varying vehicle speeds and engine speeds for the first 1000 miles ...