Adjusting the active multicontour seat
The active multicontour seat on the driver's side automatically adapts the sides of the backrest to your current driving style. You can adjust the contour of the seats individually so as to provide optimum support for your back and sides.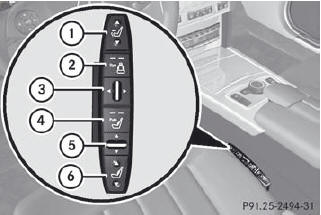 1. To adjust the seat cushion length
2. To switch the dynamic function on or off
3. To adjust the side bolsters of the seat backrest
4. To switch the massage function on or off
5. To adjust the contour of the backrest to increase/decrease support
6. To adjust the height/depth of the backrest contour
See also:
Safety guidelines for seat belts, Emergency Tensioning Devices (ETDs) and air bags
WARNING - Damaged seat belts or seat belts that have been subjected to stress in an accident must be replaced. Their anchoring points must also be checked. Only use seat belts installed or s ...
Ride & Handling
The GL has a unibody frame — rare among full-size SUVs — and its four-wheel-independent air suspension swaps traditional coil springs for inflatable air bladders. Its ride height can be varied to ...
Engine oil
Please bear the following in mind The engine oils are matched to the performance of Mercedes-Benz engines and service intervals. You should therefore only use engine oils and oil filters that a ...