Opening
You can open the trunk lid/tailgate automatically using the SmartKey or the handle in the trunk lid/tailgate.
Х► Press and hold the

button on the SmartKey until the trunk lid/tailgate opens.
or
Х► When the trunk lid/tailgate is unlocked, pull the trunk lid/tailgate handle and let it go again immediately.

WARNING
Monitor the closing procedure carefully to make sure no one is in danger of being injured. To prevent possible personal injury, always keep hands and fingers away from the trunk opening when closing the trunk lid. Be especially careful when small children are around. To stop the closing procedure, do one of the following:
- Press button

on the SmartKey.
- Press the remote trunk opening/closing switch (on the driver's door).
- Press the trunk closing switch.
- Press the KEYLESS-GO locking/closing switch.
RPull the trunk lid handle.
Even with the SmartKey removed from the starter switch or the SmartKey with KEYLESSGO removed from the vehicle, the remote trunk opening/closing switch can be operated. Therefore, do not leave children unattended in the vehicle, or with access to an unlocked vehicle. A child's unsupervised access to a vehicle could result in an accident and/or serious personal injury.
Sedan: you can close the trunk lid automatically using the closing button4 or the locking button5.
Wagon: you can close the tailgate automatically using either the closing button or the locking button6.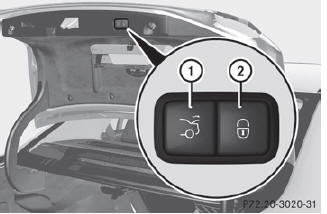 Closing button and locking button (example:
Sedan)
Х► To close: press closing button 1 in the trunk lid/tailgate.
Х► To close and lock simultaneously: Press closing button 2 in the trunk lid/ tailgate.
if you leave a KEYLESS-GO key in the trunk/cargo compartment, the trunk lid/ tailgate will not lock.
See also:
Cleaning the wheels
Do not use acidic wheel cleaning products to remove brake dust. This could damage wheel bolts and brake components. Do not park the vehicle for an extended period straight after cleaning ...
SRS warning lamp
SRS functions are checked regularly when you switch on the ignition and when the engine is running. Therefore, malfunctions can be detected in good time. The SRS warning lamp in the instrume ...
Introduction
The Settings menu can be used for: Х switching the daytime running lamps on/off Х switching Adaptive Highbeam Assist on/off Х showing or hiding the additional speedometer Х selecting the units ...