Window curtain air bags
The window curtain air bags enhance the level of protection for the head, but not chest or arms, of the vehicle occupants on the side of the vehicle on which the impact occurs.
The window curtain air bags are integrated into the side of the roof frame and deploy in the area from the A-pillar to the C-pillar.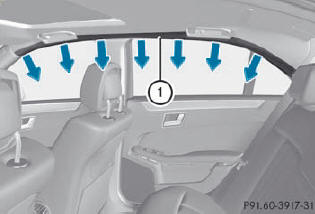 Example: Sedan Window curtain air bags 1 are deployed:
- on the side on which an impact occurs
- at the start of an accident with a high rate of lateral vehicle deceleration or acceleration, e.g. in a side impact
- regardless of whether the front-passenger seat is occupied
- independently of seat belt use
- if the vehicle overturns and the system determines that window curtain air bag deployment can offer additional protection to that provided by the seat belt
- independently of the front air bags
Window curtain air bags 1 will not deploy in impacts with deceleration rates which do not exceed the system's preset deployment thresholds for vehicle deceleration or acceleration. You will then be protected by the fastened seat belt.
See also:
DVD menu
Note You will find further information on the DVD menu in the "Video" section. To call up the DVD menu Press the button on the remote control and show the menu. Select Video DVD ...
Resetting triggered NECK-PRO head restraints
WARNING For safety reasons, have the NECK-PRO head restraints checked at an authorized Mercedes-Benz Center after a rear-end collision. WARNING When pushing back the NECK-PRO head restr ...
Tire pressure of at least 180 kPa (1.8 bar/26 psi) is not reached
If, after five minutes, a pressure of 180 kPa (1.8 bar/26 psi) has not been achieved: •► Press the on/off switch on the tire inflation compressor to 0. The tire inflation compressor is swi ...