Load index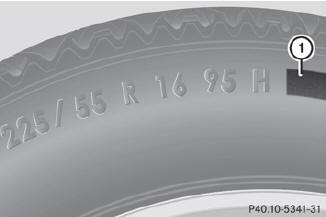 Tire data is vehicle-specific and may deviate from the data in the example.
In addition to the load bearing index, load index 1 may be imprinted after the letters that identify speed rating 6 on the sidewall of the tire.
Х If no specification is given: no text (as in the example above), represents a standard load (SL) tire
Х XL or Extra Load: represents a reinforced tire
Х Light load: represents a light load tire
Х C, D, E: represents a load range that depends on the maximum load that the tire can carry at a certain pressure
See also:
Playback options
Further information on playback options is available in the "Audio" section. Select CD, DVD-A or MP3 using the buttons on the remote control and press the button to confirm. The ...
Driving tips
Observe the notes on ESPЃ trailer stabilization (). The maximum permissible speed for vehicle/ trailer combinations depends on the type of trailer. Before beginning the journey, check the traile ...
Tire labeling overview
The following markings are on the tire in addition to the tire name (sales designation) and the manufacturer's name: 1 Uniform Tire Quality Grading Standard 2 DOT, Tire Identification Number 3 ...