Tire labeling overview
The following markings are on the tire in addition to the tire name (sales designation) and the manufacturer's name: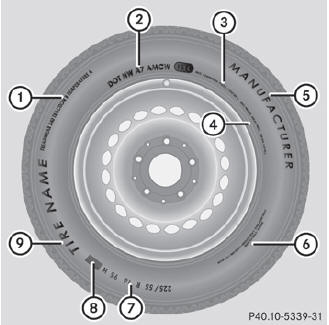 1 Uniform tire Quality Grading Standard
2 DOT, Tire Identification Number
3 Maximum tire load
4 Maximum tire pressure
5 Manufacturer
6 Tire material
7 Tire size designation, load-bearing capacity and speed rating
8 Load index
9 Tire name

Tire data is vehicle-specific and may deviate from the data in the example.
See also:
Drive sensibly – save fuel
Observe the following tips to save fuel: The tires should always be inflated to the recommended tire pressure. Remove unnecessary loads. Remove roof racks when they are not needed. Warm ...
Please bear the following in mind
Resetting service interval display If the qualified specialist workshop, e.g. a Mercedes-Benz Center, carried out the maintenance work, the service interval display will be reset. Further info ...
Stowage compartments in the rear
Stowage compartment in the rear Do not sit or lean your bodyweight on the armrests when they are folded out as you could damage them. Close the cover of the stowage compartment before foldin ...